*FREE 2024 Artwork using your logo. A4, A3 or A2
• Full details & Prices, please click here

*FREE ARTWORK : We can set up your artwork at no extra cost. Just supply us with your logo in a suitable format (High resolution PDF, or EPS file), and select one of our standard A3 or A2, 2024 Calendar deskpad templates below. We'll adapt our templates to fit YOUR brand and colours (including spot Pantone ® colours) & use YOUR logo; Or download our template files and set your own artwork up based on these (click on the relevant PDF icon).
Customer reviews - See below at the bottom of this page.

A3 Deskpads
MOVE your MOUSE OVER IMAGES for OTHER A3 OPTIONS - A3 is our most Popular Option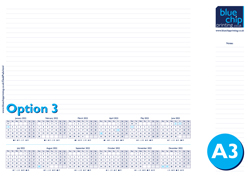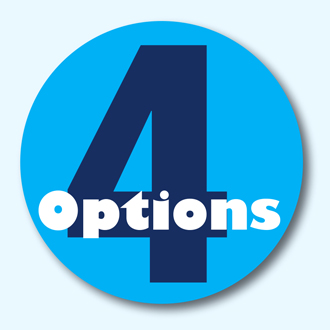 BIG A2 Deskpads
MOVE your MOUSE POINTER OVER IMAGES for our other A2 Calendar Pad OPTIONS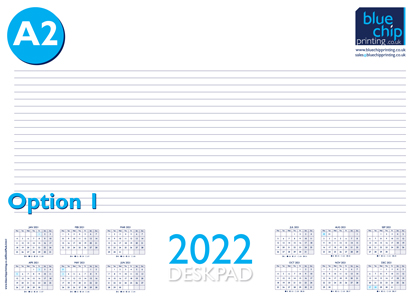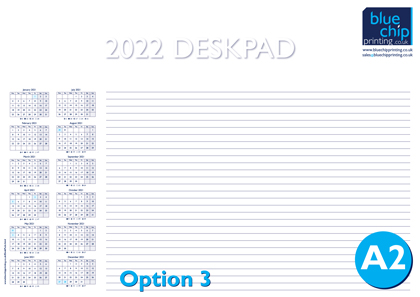 A4 Note pads & A4 To Do Pads
& A5 Notepads
MOVE your MOUSE POINTER over the IMAGES for OTHER A4 & A5 pad Options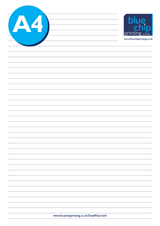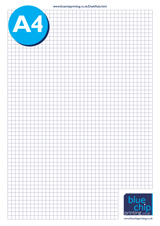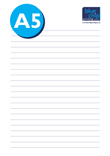 • Various pad template options above (We can create artwork for you based on our different options - we'll personalise design with your logo and adjust colours to suit, and can also add graph grids - just ask and see what we can do for you!)

• A5 pad size: 148 x 210mm • A4 pad size: 210 x 297mm • A3 size: 297 x 420mm • A2 size: 420mm x 594mm
• Single sided High quality Litho printing, Full colour or Corporate Spot Pantone colours. 2024 - 12 Months Calendar
• NOTE : Bank holidays highlighted on our Calendars are those for England & Wales
• *Free Delivery (mainland UK) incl. All deskpad prices shown exclude VAT @ 20%. This will be added at checkout
5
A2 Desk Pads
Thanks, Blue Chip - they've arrived and they're BEAUTIFUL! Thank you so much for your patience each time I changed my mind on the design and your very professional service! Will be back in touch when we need more...
5
Quick and efficient
We ordered A3 desk pads and they were with us within a week. Ordering process was extremely easy with a clear flow of communication regarding the graphics. We are very happy with the quality of print and the service provided. Will definitely use again and recommend to others. Great job, thanks guys
5
Deskpads in a hurry!!
Thank you Blue Chip, you got me out of a jam, turning round deskpads for me in only a few days. They looked great. Will definitely think of you in the future.
5
Fantastic Printed Desk Pads
Great product and really super, personal customer service.
5
A3 Desk Pads
We ordered the A3 desk pads, personalised with our company logo, and were extremely happy with the final product. The quality of the product was fantastic, we would definitely use this service again.
5
A3 Desk Pads Super Service
Great quality desk pads delivered in a couple of days. Jeremy and the design team were really helpful, approving our artwork in a couple of hours and ensuring our prints were scaled correctly as we needed our pads to be used for scale drawings. The quality was great,
5
20 x A3 Branded pads
Blue Chip printing have been a dream to work with. They are really prompt with all enquiries and the finished product was perfect. It was great to know that care and attention had been taken to my artwork to ensure that the print was of the best possible quality. Thank you!
5
50 x A2 Desk Pads
Using my own artwork these pads were printed and delivered very quickly indeed. The price was good and my client was very happy with them.
5
A5 Branded Pads
We regularly order this item from Blue Chip and have always found the product, and the service, to be exceptional. The turnaround time is very fast, the ordering process is extremely easy and it is all topped off with great customer service experience. We will continue to look to Blue Chip for our corporate stationery needs.
5
Amazing A2 Pads
Great prices for the quality of the pads. Brilliant assistants on how to use the website. Very quick turn around times. I will definitely be ordering from Blue Chip again!
5
GREAT!
A speculative email at 1730 one evening resulted in a proof that night, and the delivery of the finished item within a week. Quality of the normal paper is great - just what we wanted. Delivery and packaging excellent - just what we wanted.
5
A3 Desk Pads
Excellent product, exactly what we wanted. There was no issue, or problems with having some slight amendments before we agreed on the final product. We will definitely re order. A happy customer, thank you.
5
Stock Order
At first i was a bit hesitant due to not being able to hold the proofs myself to evaluate the quality, but I was amazed at the quality reaction time and professionalism of Blue Chip printing as well as the lowest price anywhere for all our needs, I will certainly be using Blue Chip for all our printing needs moving forward. they have excelled themselves.
5
Fast delivery & good price
Very pleased with the job by Blue Chip Printing. Cost effective, fast turnaround and good quality.
5
A3 Deskpads
Superb product, very well priced & fantastic service. Would highly recommend & will be using again.
5
A3 Full Colour Desk Pads
We had received a sample in the post of the Blue Chip A3 desk pad. We were looking for a great price on Desk Pads at the time. Blue Chip prices and spec were the best we could find. Received the product today, and they look FAB! Really impressed with the service. Great product! Thank you all very much!
5
A3 Desk Pads
Fantastic product they were just what we have been looking for. Extremely helpful staff we will definitely be using again.
5
A4 & A5 Pads
From start to finish, Blue Chip Printing were a pleasure to deal with. Our artwork was approved in rapid time and the delivery of our pads arrived ahead of schedule. The pads we ordered are of excellent quality and the print quality is superb and have received positive feedback from employees and peers. Overall, Blue Chip Printing deliver flexible, high quality solutions with excellent customer service and ultimately, value for money. I would not hesitate in recommending them for our future requirements.
5
A4 Full colour Conference Pads
We were let down by a printing company at the last minute, which placed us in a very bad situation as we needed the order urgently. We called Blue Chip printing just after 5pm and they answered the phone immediately. We explained the issue and the urgency and they dealt with it immediately. They even stayed on late to receive and process our artwork. The goods were delivered in record time (after they kindly moved their production scheduled to fit this work in) exactly as promised. The quality is excellent and so is the price. I honestly cannot recommend Blue Chip Printing enough and I will certainly use them again. This is the sort of service you that sets them above the rest. many thanks to Blue Chip Printing!